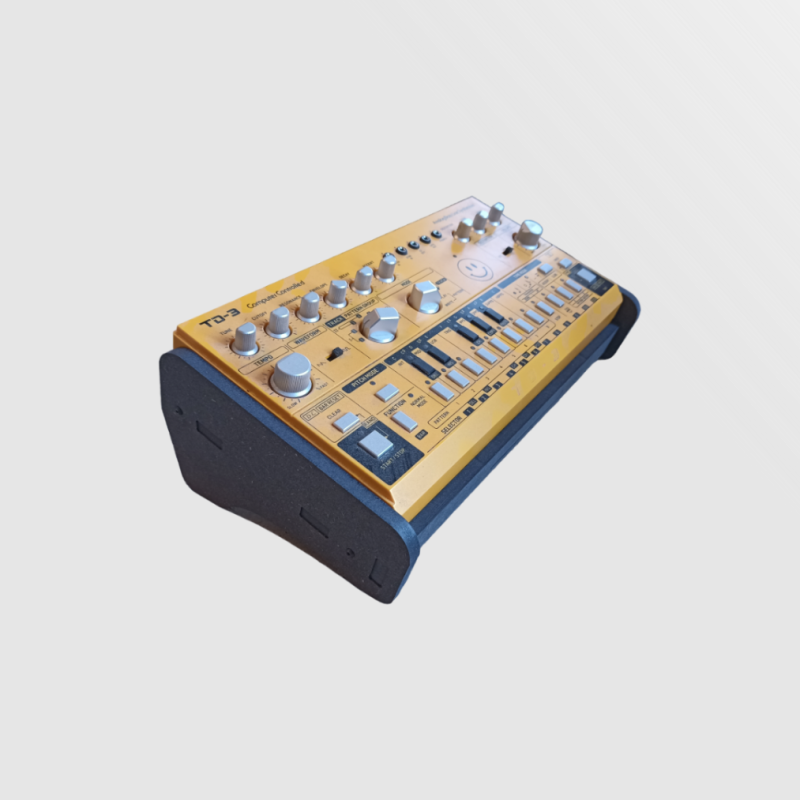  
copy of Stand 1 Behringer Bois
1-tier stand specifically designed for Behringer TD-3 or RD-6 machines.
Available in two finishes: natural (brown) MDF or black MDF.
Crafted with high-quality materials for maximum stability.
Compact and sleek design that optimizes your studio space.
Quick and easy installation for immediate use.
Enhances ergonomics by positioning your machines at an ideal height.
Give your studio a professional look and elevate your music creation experience.
Secure Payment
Shipping methods
Assembly instructions
Introducing our 1-tier stand, specially designed for Behringer TD-3 or RD-6 machines. This stand offers a convenient and stylish solution to elevate your music production setup.
Crafted with precision and attention to detail, our stand is available in two stunning finishes: natural (brown) MDF or sleek black MDF. Choose the option that best suits your aesthetic preferences and studio environment.
Our 1-tier stand is not only visually appealing but also built for stability and durability. It provides a secure platform for your Behringer TD-3 or RD-6, ensuring they stay firmly in place while you focus on creating music.
With its compact design, this stand optimizes your studio space, allowing you to organize your equipment efficiently. The elevated position of your machines enhances ergonomics, providing comfortable access to controls and facilitating seamless workflow.
Installation is a breeze, so you can start using your stand right away. Simply place your Behringer TD-3 or RD-6 on the stand and experience the convenience and functionality it brings to your music production process.
Upgrade your studio setup with our 1-tier stand and enjoy the perfect blend of aesthetics and functionality. Elevate your music creation experience and let your creativity flow freely.
No customer reviews for the moment.
3 other products in the same category: